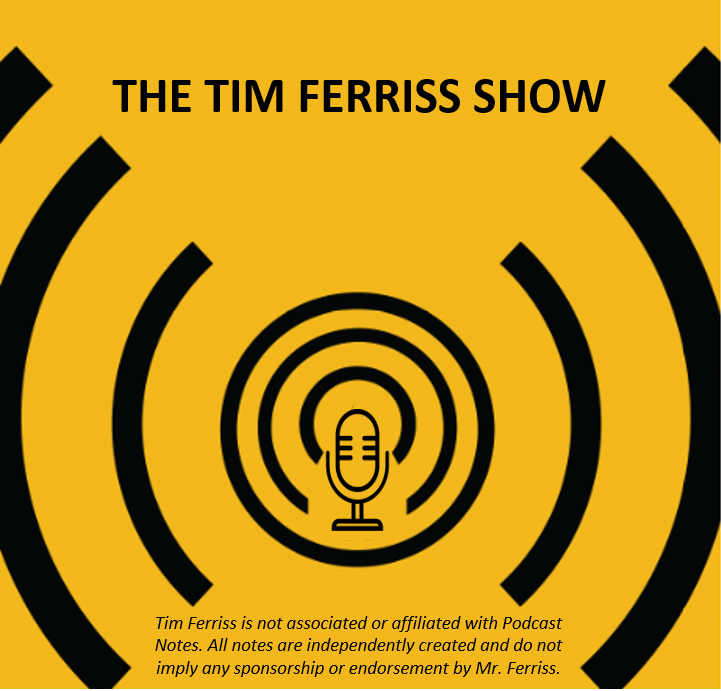 January 10, 2021
#491– 25 World Records, Weight Training, Sports Psychology, Overcoming Pain, and more with Dr. Stefi Cohen on the Tim Ferriss Show
Tim Ferriss is not associated or affiliated with PodcastNotes in any way. All notes are independently created by PodcastNotes and do not imply any sponsorship or endorsement by, or affiliation with, Mr. Ferriss.


Check out the episode page and show notes
Key Takeaways
Progressive Training for Weight Lifting includes:

Block 1 – General Physical Preparedness (GPP) – accumulating volume and improving aerobic capacity

Block 2 – Decreasing cardio and increasing the frequency of all the main lifts: squatting, benching, and deadlifting

Block 3 – Increasing lift intensity to 100% capacity

Block 4 – Reducing weight loads by 50% just before a competition

Injuries happen when the load that lifters put on their tissues exceeds their tolerance
To decrease symptoms of pain, determine if your body has a directional preference and find out what action increases pain
Back endurance helps to add resilience against injuries
When you encounter bad training days, stay positive – don't bring yesterday's baggage to the gym today
Six things that you should be doing after any injury:

Stop doing what hurts – don't be afraid of taking some time off

Find movements that feel good and don't exacerbate your pain

Increase the amount of aerobic activity – "motion is lotion"

Use pain to inform your training decisions

Turn off the pain alarm -expose yourself to tolerable ranges of motion

Understand that tissue adaptation takes time- don't rush the process
Intro
Stefi Cohen (@steficohen) is a 25x world-record-holding powerlifter and the first woman in the history of the sport to deadlift 4.4x her body weight. She is a doctor of physical therapy, author, co-host of the Hybrid Unlimited podcast, is also the co-author (with Ian Kaplan) of Back in Motion.
Tim Ferriss (t:@tferriss) is an entrepreneur, investor, author, and podcaster.
Stefi's Weight Lifting Records
Stefi is the first woman in the history to deadlift 4.4x her body weight
She weighed 120 lbs and deadlifted 545 lbs and broke 25 world records in lifting
Her best squat was 510 lbs. and she can bench 240 lbs
Ed Coan and His Approach to Lifting
Ed is considered one of the greatest lifters of all times having lifted for over twenty years
He had a top-down approach – he decided what he'd lift then figure out what he had to do to get there
He specialized in the deadlift = 902 lbs at a weight of 240 lbs
The Ultimate Test of Strength
The Dead Lift is considered the ultimate test of strength
In a basic deadlift, you start with a bar on the floor and lift until your knees and hips are locked out all the way
There are two styles of deadlifting:

Conventional – place your hands outside of your feet at hip distance

Summa – hands are placed inside of the feet which are much further apart
How to Increase Your Dead Weight Lifting to 4x Your Body Weight
Look at your form including the placement of your feet, hand position, angle of your torso, and starting position
Look at your training program – implement progressive overloads
The physics of your body proportions matter = good leverage

Long arms, short torso, and huge hands help

Genetics are helpful, too especially with muscle composition
Competition Training Steps
Block 1 – General Physical Preparedness (GPP) – In this step, you accumulate volume and improve aerobic capacity
Block 2 – Decrease cardio and increase the frequency of all the main lifts: squatting, benching, and deadlifting
Block 3 – Increase lift intensity to 100% capacity
Block 4 – This is the period where you cut weight loads by 50%
Injury in Weight-Lifting
Injury happens but it's not easy to understand or as simple as people think
Injuries happen when the load that lifters put on their tissues exceeds their tolerance
Weight-lifters need to manage external forces

Figure out what's irritating your body then do corrective exercises to spare that tissue

Increase your tolerance by reducing weight load to allow tissue the time to repair
Stefi's Injury
Stefi had a chronic lower back injury
She tried to ignore the pain thinking, no pain, no gain – but that was wrong!
Increasing pain killers, Stefi kept pushing herself at weight lifting
The pain became excruciating until she felt a snap in her back
Stefi only took one week off and bombed out at an international competition
She mistrusted much of the medical advice she got, did research, and wrote a book – Back in Motion – a hybrid approach to pain

Medical studies are not foolproof – watch their sources
Weight-Training After Injury
Pain science has shown pain isn't necessarily tied to damage
95% of pain cases don't know the source of the pain
To decrease symptoms of pain, do an assessment:

Determine if there is a directional preference -Does it hurt when you bend forward or backward, turn left or right?

Do a compression test to find your intolerance level

Find out what action increases pain- standing, walking, running or sitting
Best Way to Prevent Back Injury
Back endurance helps to add resilience against back injuries
Make sure that there's an appropriate progression in what you're doing, and do movements that are safe for you
When it comes to modifying the way that you lift things, you need to move like yourself
There's nothing wrong with rounding when you deadlift – your spinal segments are at about 60 to 70 percent inflection even when you're not seeing any flexion happening
Stay Positive
When you encounter bad training days, stay positive – don't bring yesterday's baggage to the gym today
Let go of disappointment – don't overthink a particular session
"Each fresh crisis is an opportunity in disguise." I can't remember where I first read it, but it resonated with me so much, because honestly every single time I've failed at something it's been the best, worst thing that has ever happened to me. It's opened so many doors and so many new opportunities." – Stefi Cohen
Books Stephi Recommends
Six Things You Should Do After Any Injury
Stop doing what hurts – don't be afraid of taking some time off
Find movements that feel good and don't exacerbate your pain
Increase the amount of aerobic activity like walking and moving more in general – "motion is lotion"

Bed rest and immobilization are all outdated – move as much as you can

Use pain to inform your training decisions and the movements that you do
Turn off the pain alarm -expose yourself to tolerable ranges of motion and tolerable movements that don't make your pain worse
Understand that tissue adaptation takes time- don't rush the process and understand everyone experiences pain and injuries at a different speed