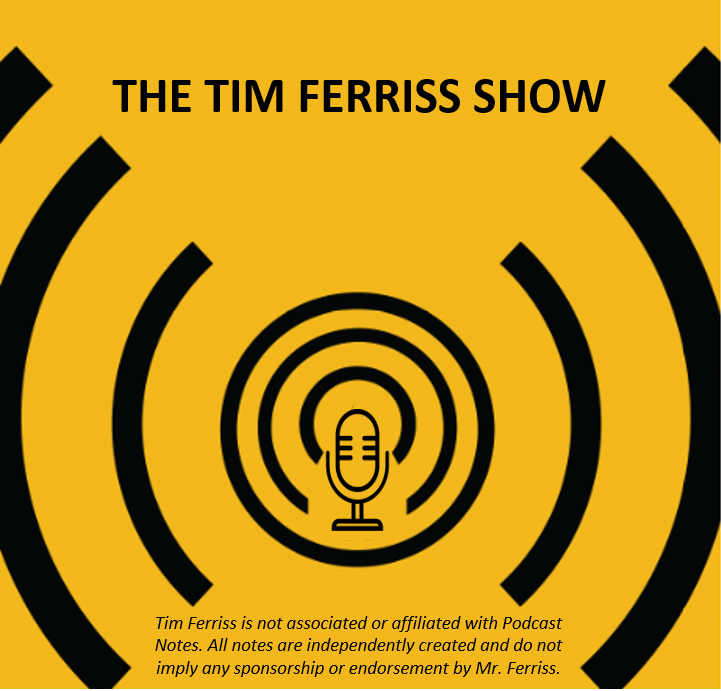 November 29, 2019
Peter Attia, MD: The Centenarian Olympics, Exercise, Fasting, Metformin, Meditation, Optimizing Sleep, and More – The Tim Ferriss Show
Tim Ferriss is not associated or affiliated with PodcastNotes in any way. All notes are independently created by PodcastNotes and do not imply any sponsorship or endorsement by, or affiliation with, Mr. Ferriss.


Check out The Tim Ferriss Show Episode Page & Show Notes
Key Takeaways
Aim to be a kick-ass 100-year-old

When you're 100, you should be able to: Get up off the floor under your own support, walk up and down a flight of stairs carrying groceries, lift ~30 lbs. over your head, and do a 30-pound goblet squat

"The more you exercise, and the healthier you are, the less benefit, and potentially more detriment, you could experience from metformin" – Peter Attia
There are TONS of different fasting regimens, but because we can't measure autophagy, we have no idea which is most optimal in terms of longevity/lifespan
Your negative personality traits are NOT set in stone – with enough work, they can be changed for the better
"If you're really committed to brain health, you want to be exercising every day" – Peter Attia
Two of the best things you can do to improve your sleep:

Go to bed and wake up at the same time every single day
Cut out alcohol; it destroys sleep quality
Products and Supplements Mentioned
During his prolonged fasts, Peter supplements with:
Sleep products:
Intro
Peter Atta, MD (@PeterAttiaMD) is the founder of Attia Medical, PC, a medical practice with offices in San Diego and New York City focusing on the applied science of longevity and optimal performance
Peter's been interviewed on several podcasts; check out the Podcast Notes:
Peter is Training for the Centenarian Olympics
"Before many people die their physical death, they tend to die some kind of combination of cognitive and exoskeleton death" – Peter Attia
In your 90s-100s, you should be able to:

Get up off the floor under your own support
Pick up a child that's running at you (or, similarly, do a 30-pound goblet squat)
Walk up and down 3 flights of stairs with 10 lbs. of groceries in each hand
Pull yourself out of a pool
Lift a 30 lb. suitcase over your head (i.e., when you're putting your luggage in an overhead bin on an airplane)

Backtracking, to do the above, you need:

Stability – the ability to control your exoskeleton such that load is transferred safely through muscles as opposed to joints
Aerobic efficiency
Adequate strength
Anaerobic performance

A few nuggets of Peter's exercise routine:

He deadlifts twice a week – one day is straight bar deadlifts, the other is hex bar deadlifts
He also does a lot of single-arm press movements
Peter Has Changed His Mind About Using Metformin in Healthy Individuals
Back in 2010 or so, Peter viewed metformin as "a very low-risk cancer-mitigating drug, in anybody"

That said, Peter believed it to be more so in diabetics

What does metformin do?

Perhaps most importantly, it's a mild mitochondrial toxin – it inhibits mTOR Complex 1 (mTORC1)

This causes the body to act as if it's in a fasted state (the amount of glucose the liver puts into circulation is lowered)

"It's sort of like a junior fast in a pill" – Peter Attia

About a year ago, Peter started to realize metformin's adverse effects on a type of exercise known as zone 2 training (exercise aimed at enhancing mitochondrial function)

Zone 2 is the maximum amount of work (power output) you can maintain while keeping your lactate levels stay below ~2 mmol/L (lactate is a byproduct of metabolism under which energy (ATP) is produced faster than can be made using oxygen alone)

Whenever you have metformin in your system, this maximal power output is reduced
If you don't feel like checking your lactate levels, know that zone 2 is about the highest level of exertion where you can still carry out a conversation

Metformin also appears to impair muscle growth (specifically the inflammatory response that's necessary for muscles to grow)
For the above reasons, Peter stopped taking metformin and has instead decided to focus more on exercise

"The more you exercise, and the healthier you are, the less benefit, and potentially more detriment, you could experience from metformin" – Peter Attia
Treating Diabetes with the Basics
"If you take somebody who has diabetes, I don't think people appreciate how potent a tool fasting, exercise, and sleep are" – Peter Attia
Peter Can't Get Enough of Egg Boxing
What is it?

It's a game – whenever you're making something with eggs, you bang two of them off one another

The egg that doesn't crack wins the round

You then use that same egg and smash it against another egg, etc.
The last egg standing wins the carton and moves on to face the next carton

Peter once had an egg last more than a year!
We Don't Know the Best Fasting Protocol
"If fasting is such a potent tool… it's sort of odd we don't know how to dose the tool" – Peter Attia

Peter talked more about this in these Podcast Notes
There are TONS of different fasting regimens, but because we can't measure autophagy, we have no idea which is best in terms of optimizing for longevity/lifespan

This is testable in mice, but not humans (for obvious reasons, until we can specifically measure autophagy via a variety of blood biomarkers)
Peter's Fasting Routine
He does a 7-day water-only fast once per quarter sandwiched by a week of following a ketogenic diet on each end

He only does his fasts while he's in NY for work (his home base is in San Diego), and does so from Saturday evening to Saturday morning
Why keto?

On the way in, to generate ketones. This way, when you enter the fast, you suffer slightly less.
On the way out, to prevent Peter from "eating like an idiot"

That said, Peter is thinking about changing things up and only doing a 3-day fast once per month

What does Peter supplement with during his fasts?
Tim's preferred fasting regimen: A 3-day water-only fast from Thursday dinner to Sunday dinner

He's found that going for long walks on Friday morning helps ease the transition into ketosis
Tearing Phonebooks
Back in college, Peter could tear a phone book in half (and made a habit of doing so)

It all comes down to grip strength, hand size, and technique – Peter demonstrates how in this video
"I'm nowhere near as good at it as I used to be" – Peter Attia
Peter's Recent Interest in Archery & Hunting
In the summer of 2016, mostly spurred by Tim, Peter decided to buy a bow

The rest is history: "It's now at the point where, in some ways, my life revolves around this thing" – Peter Attia

Peter has an archery range at his house and shoots every morning
"Archery is always going to be an amazing teacher. Either you go up there and have this amazing day where you're in a flow state, and everything goes well… Or, it's some variation of not going that way, and you get to practice this skill of distancing yourself from the narrative that is, 'Dude, you suck. How could you be so bad at this?'" – Peter Attia
Hunting has changed the way Peter looks at food

"It's reduced my appetite for consuming food that I haven't had some relationship with. My aspiration is that by 2021, only to eat food I've killed." – Peter Attia

If you want to learn more about archery, Peter highly recommends John Dudley's Nock On Podcast
The nitty-gritty:

Peter's preferred bow: Hoyt's RX-3

"It's the only inanimate object I've ever wanted to sleep with in my bed" – Peter Attia

Peter only shoots with a back-tension release. He uses the:
Childhood Trauma
No matter what a child experiences, odds are it will have a significant effect on their personality as a teen/adult

"I don't think we're paying enough attention to how these things that kids experience can change their personality" – Peter Attia
Kids internalize things differently than adults – be careful of how you act around them
Your Personality Isn't Set in Stone
"I think the fate of one's personality may not actually be set… I don't think these flaws in our personality are deterministic" – Peter Attia

For instance, Peter spent most of his life as an "angry individual," but has since changed his personality for the better

"With enough work, you can start to overcome these deficits. I think I'm only about 50% as angry as I was during my anger heyday."

So.. don't buy the narrative, don't buy the story, you CAN change
One thing that might help:

View your negative personality traits as coping mechanisms that may have helped you in the past, but no longer serve a purpose
What's helped Peter tone down his anger?
Mediation

How so? – It allows you to more effectively pause between stimuli and response (and because of this, you're more likely to take control and not react in a manner you might regret later on)
Peter uses either Sam Harris' Waking Up app or Dan Harris' 10% Happier app to meditate

Therapy

Specifically, therapy aimed at taking a look back at Peter's childhood to discover where his anger originates from
What Peter's learned:

Most of his past outrage originates from a feeling of failure/being inadequate
"Anger is like honey with a poison tip; it's a short-lived transient benefit that comes with a long tail of misery" – Peter Attia

Taking Ryan Holiday' course: Taming Your Temper: The 10-Day Stoic Guide to Controlling Anger
Watching David Foster Wallace's famous This is Water commencement speech once per month
All in all:

"Once you start to accept that anger is not something you're hard-wired to, like your height or shoe size, you can start to change it. You just have to work at it." – Peter Attia
How should you go about picking a therapist?
(Peter actually has 3 therapists; two of them being Esther Perel and Terrence Real)
You have to have a connection with them – there should be some sort of chemistry

"Their insights have to be such that I exit almost every session thinking, 'Wow, I see something I didn't see before.'" – Peter Attia

They have to be able to produce results

"In the end, none of this stuff matters if it's not reducing your suffering" – Peter Attia

"For me, the therapists that are really valuable are also the ones that, frankly, don't have a hard time telling you that you're wrong, full of sh**, or if you're just being a d***" – Peter Attia
Exercise
"I've changed my mind on the benefits of exercise being much greater than I ever envisioned" – Peter Attia
Hands down, exercise is the best thing you can do to reduce your risk of Alzheimer's disease

"If you're really committed to brain health, you want to be exercising every day" – Peter Attia

Which type of exercise is best: low-intensity cardio, high-intensity cardio, or strength training?

We don't quite know, so it's best to incorporate them all

They all appear to increase levels of brain-derived neurotrophic factor (BDNF) and benefit the cardiovascular system
What about nootropics?
"If you think about Silicon Valley right now, everybody's obsessed with this nootropic and that nootropic, but I don't think people understand correct nutrition, exercise, and sleep are far better nootropics than something like modafinil" – Peter Attia
How to Improve Your Sleep
You HAVE to prioritize it, just like exercise
Peter:

Wears Felix Gray blue light blocking glasses a few hours before bed. Using his Oura Ring (Tim owns one too), Peter has noticed his deep sleep numbers increase from doing so.
Limits device/social media use before bed
Tries to go to bed/wake up a the same time every single day
Wears an Alaska Bear Eye Mask (Peter has TONS of hem, so he's never without one)

We at Podcast Notes love the Manta eye mask – use the code "PODCASTNOTES15" for 15% off

Uses an OOLER Sleep System, a mattress topper that circulates temperature-controlled water (varying between 55-110 °F), allowing you to optimize your sleep environment (with the OOLER, you can schedule temperature changes throughout the night)

For 15% off the OOLER, use the code "Podcastnotes15" at checkout

Has mostly eliminated alcohol

Alcohol destroys sleep quality – it reduces REM sleep, lowers heart rate variability, raises your resting heart rate, increases body temperature, and increases the number of times you wake up throughout the night
Stop Drinking Sugar
"The single worst thing you can do is drink your sugar" – Peter Attia

Mouse studies have shown that liquid sugar (fructose), compared to solid sugar (glucose), dramatically increases the risk of colon cancer
The Art of Podcasting
On starting his podcast: "This whole thing started as an experiment a year and a half ago, and I couldn't have imagined how enjoyable it is" – Peter Attia
Conducting a good interview is truly an art form

"I think the hardest thing is to somehow parallel process being engaged in the discussion you're having, but allow a part of your brain to be thinking about where you are on an interview path and where you want to go" – Peter Attia
"It's a fun craft… Anybody can do it, but it's hard to do really, really well." – Peter Attia
"What surprised me maybe the most about the podcast interviewing game… is how coachable and improvable many of the component skills are" – Tim Ferriss

Both Peter and Tim frequently go back and listen to past interviews to improve their skills

"Listening to your own audio really showcases any tics you have, or any pet phrases" – Tim Ferriss

Peter does most of his interviews in person

He never goes into a conversation with specific questions to ask, but always has an idea of which topics he wants to explore

"In the end, I think I've learned it comes down to prep. The better interviews are ones in which I feel like I'm more prepared." – Peter Attia

Peter, of course, credits his team to helping with that prep. Before every interview, they provide Peter with a large prep document.
Additional Notes
Check out this video of Kevin Rose throwing a raccoon
Peter and his wife met at Johns Hopkins
Peter was on The Joe Rogan Experience last April – check out the Podcast Notes
Peter has chickens in his back yard (that's where he gets his eggs from)
Growth hormone is a performance-enhancing drug that's very difficult to test for

Why? – It's a "human recombinant equivalent"

Unlike with something like exogenous testosterone, signature biomarkers won't change when supplementing

Oddly enough, psilocybin isn't banned by the World Anti-Doping Agency, but MDMA is

Many people report low-dose psilocybin or LSD (AKA microdosing) enhances athletic performance

Peter has an iRacing simulator at his house and regularly trains with his coach, Thomas Merrill
Tim highly recommends the Senna documentary
When Peter DOES drink, he prefers Clase Azul Reposado
In high school, Peter once drank a 705 ml bottle of lemon juice for $2
Tim once offered Kevin Rose $10k to eat a lobster shell (he obviously failed)
If you're digging into Peter's blog posts for this first time, start with Studying Studies