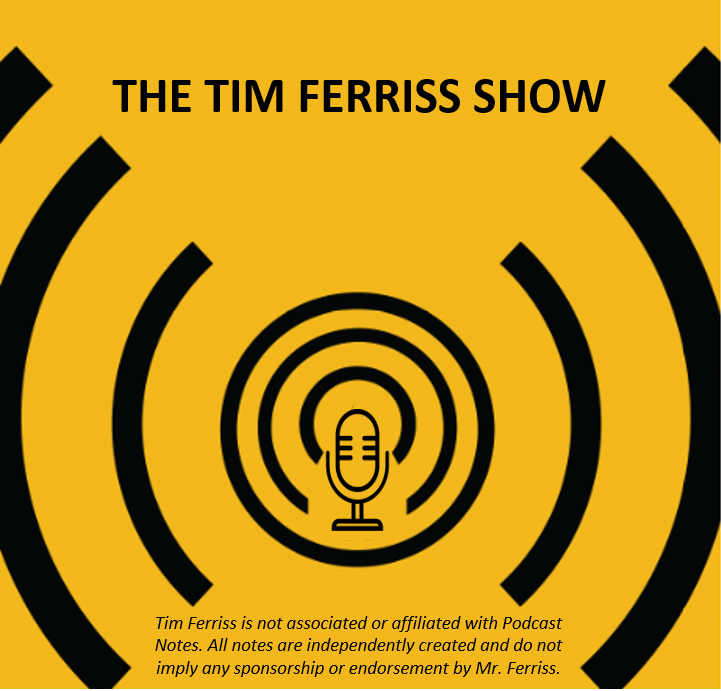 November 25, 2019
Mike Maples and Andy Rachleff: How to Win in the Startup World, Finding Product-Market Fit, and Common Entrepreneurial Mistakes – The Tim Ferriss Show
Tim Ferriss is not associated or affiliated with PodcastNotes in any way. All notes are independently created by PodcastNotes and do not imply any sponsorship or endorsement by, or affiliation with, Mr. Ferriss.


Check out The Tim Ferriss Show Episode Page & Show Notes
Key Takeaways
How do you know when you have product-market fit? Here are a few reliable indicators:

You need exponential organic growth, primarily driven by word of mouth
If you give someone your product for free for 30 days, and then abruptly take it away from them:

"If the customer doesn't scream, you don't have product-market fit because if they're not going to buy it at the end of 30 days, they're not desperate, and if they're not desperate, you don't have product-market fit." – Andy Rachleff

Never iterate on your product to cater to a potential customer's beliefs

Instead, spend the time finding people who LOVE what you're doing

"The best startup scenarios I've seen are when the entrepreneur, the investors, and the early customers are all-in on a secret together. They're starting a movement that the rest of the world will one day accept, but they're starting it as rebels." – Mike Maples
Not everyone needs to like your product (nor should they)
"The only way to make outsized returns as an investor or entrepreneur is to be right and non-consensus" – Andy Rachleff
Books Mentioned
Intro
Mike Maples (@m2jr) is a partner at Floodgate

He's widely considered to be one of the best technology investors of all time (he's an early investor in Twitter, Cruise Automation, Chegg, Lyft, Okta, Twitch, and more)

In this episode, Mike speaks with Andy Rachleff (@arachleff), co-founder of Wealthfront and Benchmark Capital, about two of the biggest questions that should be on every startup founder's mind: How do you reach "product-market fit" (a term that Andy coined), and how do they know when you've achieved it?
The Meaning of Product-Market Fit
Coincidentally, Andy actually coined the term (but claims it was "invented" by Don Valentine of Sequoia Capital)

"To me, product-market fit is when you have proven the value hypothesis" – Andy Rachleff

The value hypothesis is the what, who, and how: What are you going to build, for whom is it relevant, and how's the business modeled?
🎧 Don would say: "I'm looking to invest in companies that can screw everything up and still succeed because the customer pulls the product out of their hands"
The 4 Heuristics of Product-Market Fit
On the consumer side:

1) Exponential and organic growth

"The only way you know if you have product-market fit is if you get word of mouth" – Andy Rachleff

(and the best test of word of mouth is exponential, organic growth)

2) Net promoter score

This is a proxy for word of mouth (although not quite as good)

On the enterprise side

3) Sales yield

You measure where exactly a company is in their sales life by calculating their sales yield (the contribution margin of a sales team divided by the total cost to field that sales team)

"When a company gets to a sales yield >1, that's how you know you've hit product-market fit" – Andy Rachleff

4) A screaming customer

Andy explains:

Every enterprise company should run a 30-day proof of concept trial. To make these trials productive, company's usually require the customer to agree to buy the product after 30 days if it meets expectations. But… pull the trial after 30 days (no matter what). Then:

"If the customer doesn't scream, you don't have product-market fit because if they're not going to buy it at the end of 30 days, they're not desperate, and if they're not desperate, you don't have product-market fit." – Andy Rachleff
Entrepreneurial Mistakes
"The second biggest mistake I see entrepreneurs make, especially in enterprise, is when they pitch a potential customer on an idea, and when the customer doesn't like the idea, they try to iterate on the product to build something the customer would want." – Andy Rachleff

"That's the absolutely wrong thing to do, even though it feels right. You want to find people who love what you're doing, not try to convince the 'no's' and turn them into 'yes's.'"

Andy adds: "By the way, this is analogous to attracting a VC. If a VC doesn't immediately say, 'When can I meet you again?' you haven't found product-market fit"'

That said: "You should iterate on the who and how, the business model" – Andy Rachleff

(Like how Netflix switched from a DVD rental-based model to a subscription model)
A Marker of a Great Company
"The best startup scenarios I've seen are when the entrepreneur, the investors, and the early customers are all-in on a secret together. They're starting a movement that the rest of the world will one day accept, but they're starting it as rebels." – Mike Maples
Mike has recommended this book in the past
"The fundamental idea expressed in Crossing the Chasm is that there's a natural rate of adoption of every product. This hasn't changed. It was true 100 years ago, and it'll be true in another 100 years." – Andy Rachleff
Another point discussed in the book: Certain people are willing to adopt at different rates:

First, a product is adopted by "early adopters"

These people tend to have a problem they need solved and want to buy a product to do just that

Next, come the "pragmatists"

They want something revolutionary, not evolutionary (they're not trying to get ahead in their jobs, they're trying not to get fired)
These people tend only to buy if 5 other people tell them they should buy (they need social proof)

The next group, "the conservatives" or "late majority" only buy the product once it becomes the standard

Pragmatists make up the largest market segment, but it's a mistake to go after them first

Why? – They need references
On Pivots
"You have to be willing to fail, but don't pivot on the product. If you fix the market but pivot the product, then you have no advantage because your original insight is gone. What insight do you have over anyone else? You're now in the "right and consensus" quadrant." – Andy Rachleff

Thus: Keep your proprietary insight and find the right customer for that insight, rather than abandoning the insight
"The vast majority of successful tech companies pivoted from their original proposed market in their business plan"
Not Everyone Needs to Like Your Product
Entrepreneurship/investing can be described with a 2×2 matrix: On one dimension, you can be right or wrong; on the other dimension, you can be consensus or non-consensus

If you're wrong, you don't make money
But, and most don't realize this, if you're right and consensus, you also don't make money (the returns get arbitraged away)
"Unless you're non-consensus, you don't have a chance to serve the desperate (because they wouldn't be desperate unless they were already served)" – Andy Rachleff

"The only way to make outsized returns as an investor or entrepreneur is to be right and non-consensus"

"If you ask 5 people on the street about your idea, and it might be a killer idea, at least 4 out 5 of them should say they don't like it because they haven't been conditioned to like it" – Andy Rachleff

If you asked people about Uber 10 years ago, 90% of them would have thought it was a dumb idea
"You want people not to like your idea. If everyone likes the idea, it means they've already been conditioned, so you're just trying to do a better job than someone else – that's not a recipe for success in tech" – Andy Rachleff

Mike adds:

"If you aspire to create a great product, consider one simple fact: Great breakthroughs come from insights that defy conventional wisdom." – Mike Maples
"As soon a business opportunity becomes apparent to even a small number of people, the odds begin to work against the startup" – Mike Maples
"All of the greatest breakthrough came from unconventional insights" – Mike Maples
Savored Surprises
A lesson Andy picked up from Scott Cook:

"Whenever you create a new product and bring it to market… there's always going to be a surprise, something you didn't expect people to react to, either positively or negatively" – Andy Rachleff

But the good thing: All the value lies in the surprise

Mike adds: "You must have savored surprises at the end of every iteration. or on some level, you wasted the iteration"
Related: "The definition of a good experiment is one from which you learned, not one that succeeded" – Andy Rachleff
A Final Lesson in Entrepreneurship
"Don't project your own tastes onto other people"– Andy Rachleff

Just because you won't use a product doesn't mean it isn't a good company
Additional Notes