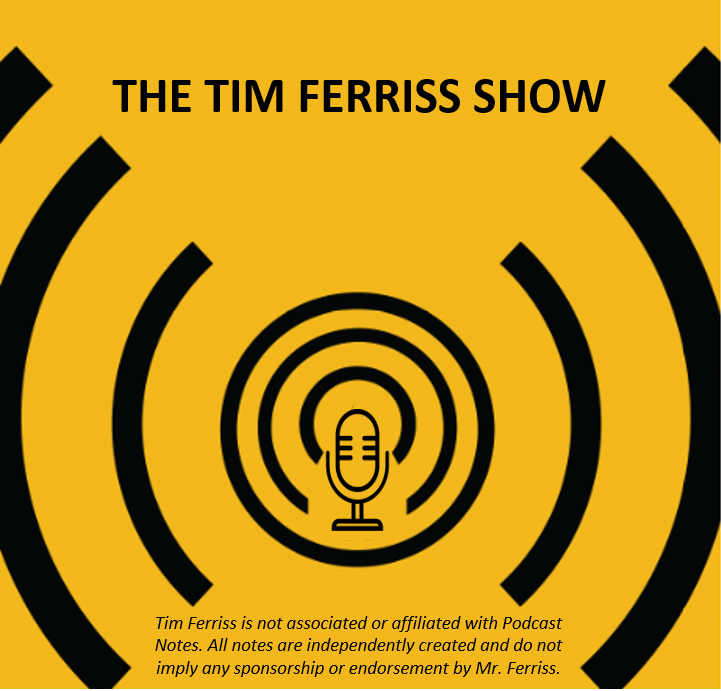 March 21, 2020
How to Support Healthcare Workers Now (Plus Urgent Suggestions for Uber Eats, Hilton, Amazon, and More) | The Tim Ferriss Show
Tim Ferriss is not associated or affiliated with PodcastNotes in any way. All notes are independently created by PodcastNotes and do not imply any sponsorship or endorsement by, or affiliation with, Mr. Ferriss.


Check out The Tim Ferriss Show Episode Page & Show Notes
Key Takeaways
Support healthcare workers. They need our help now more than ever. Give them thanks. Buy them food. Do what you can. A little goes a long way.
Intro
Tim Ferriss (@tferriss) has been in quarantine with his girlfriend & dog for the past 4 weeks
"I expect next week [Tim recorded this episode on Friday, March 20th] to be an exceptionally difficult week for many people and many cities—NYC chief among them" – Tim Ferriss
Thank Healthcare Workers
If you're healthy and listening to this podcast (or reading these notes) you likely owe something to a healthcare worker
But the sad fact is: although healthcare workers are incredibly important, we ignore until we need them
If the United States wants to defeat COVID-19, we MUST protect the healthcare workers on the front line
Doctors, nurses, x-ray techs, physician assistants, cleaning staff—they're all making incredible sacrifices right now
Healthcare Workers Need Temporary Housing
Why? So they can rest (instead of commute) and not be forced to go home and infect their families
Companies doing good work (Tim requests readers/listeners reach out and thank them/encourage them to do more):

Airbnb has been experimenting in Italy with offering temporary housing (hopefully they continue this in the U.S.)
Hilton Hotels is planning on doing similar
Healthcare Workers Need Food
Sweetgreen is delivering free meals to healthcare workers
Uber Eats has committed to provide 300k+ meals to healthcare workers and first responders, BUT it's not clear how healthcare workers can take advantage of the offer

"So, Uber Eats, please make it clearer, on your Twitter account and elsewhere, how people can take advantage of this" – Tim Ferriss
How Amazon Can Help Healthcare Workers
Amazon can (and should) create gift cards restricted to protective equipment

One could then purchase a gift card and give it to their local hospital/emergency room
How you can help…
Tim plans to create a separate email list composed of people interested in organizing different types of help

Go here and add your email for updates

Paul Graham just donated to $1 MM to flexport.org—a donation large enough to pay for almost all of the protective gear required by San Francisco's front line healthcare workers

If your city is short on personal protective equipment, reach out to Ryan Peterson, the CEO of Flexport
The Ventilator Shortage
Many United States cities are likely to face ventilator shortages, just like Italy

While the U.S. is busy manufacturing ventilators, healthcare workers must be aware of the technique one can use for modifying a ventilator, enabling a single device to work on 2 (or 4) people—check out Tim's blog post for more info
Wrapping Up
"We're going to get through this … Right now, if you're able, it's the time to be a generous lifeguard, not a selfish drowning person" – Tim Ferriss
If you're having trouble paying for food or bills, head to findhelp.org
EVERY small act goes a long way. Healthcare workers are being maxed out. Even a "thank you" can be incredibly meaningful.
We NEED our healthcare workers rested, adequately fed, and able to continue fighting. We ALL depend on them.