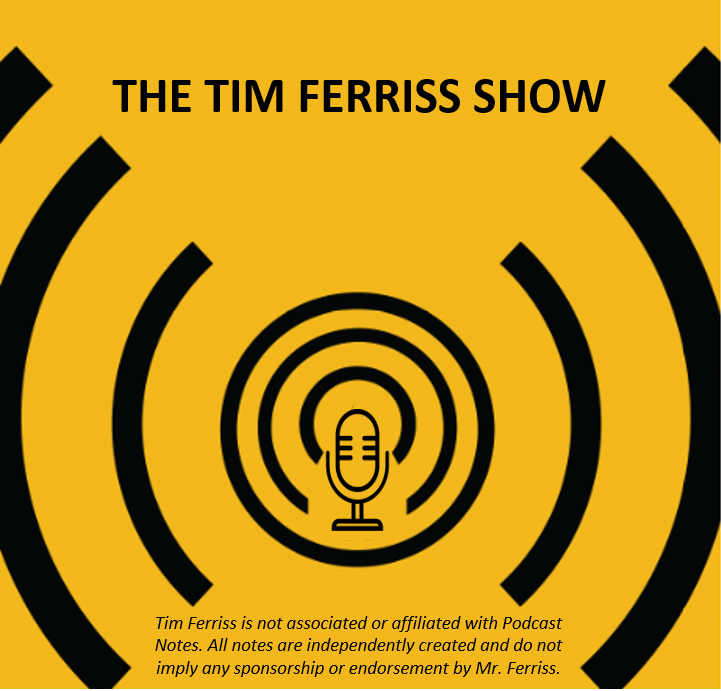 January 18, 2020
Optimism, Contending with Anger, and Finding Peace Through Exercise – Bob Iger (CEO and Chairman of Disney) on The Tim Ferriss Show
Tim Ferriss is not associated or affiliated with PodcastNotes in any way. All notes are independently created by PodcastNotes and do not imply any sponsorship or endorsement by, or affiliation with, Mr. Ferriss.


Check out The Tim Ferriss Show Episode Page & Show Notes
Key Takeaways
Success never comes overnight, and often involves a ton of hard work (mixed in with some luck, of course)
Exercise is a great time to be alone with your thoughts, think through hard problems, reflect on life, and put things in perspective
An optimistic lens is crucial to navigating life's challenging times
Life is short – don't sweat the small stuff

"If you do let the small stuff sweat you, you're just going brush off all this extra energy that would be better allocated elsewhere." – Tim Ferriss

When the door of opportunity opens, walk through
Books Mentioned
Intro
Bob's Famous White Board Session with Steve Jobs
The reason for their meeting: Bob had the idea that Disney should buy Pixar, of which Steve was a majority shareholder. The two ended up meeting at Apple to discuss it further, specifically focusing on the pros and (mostly) cons of the purchase.

A few of the cons Steve wrote out (as listed in Robert's book):

"Distraction will kill Pixar's creativity"
"Disney's culture will destroy Pixar"
"Your board will never let you do this"

As you might have guessed from the above, Steve had strong feelings about Pixar's culture and the need to protect it, reasoning that it was the primary reason for Pixar's creative success

He viewed Disney as "an overly bureaucratic, overly process-oriented, not overly collaborative culture,"

This isn't discussed, but later down the line in 2006, Disney ended up acquiring Pixar
Long Shots Aren't as Long as They Seem
From Bob's book: "One of the things I've always instinctively felt and something that was greatly reinforced working for people like Roone Arledge and Michael Eisner was that long shots aren't usually as long as they seem"

Roone was the President of ABC Sports in the mid 70s, and later became the President of ABC News – Bob adds:

"He established a reputation in both places as a gigantic risk-taker, a showman, an innovator, and someone with an incredible eye for a great story… He was willing to try a lot of big things — things that had not been done before — and go places no one had ever gone, tell stories no one had ever told… He was quite the innovator."
"He had a lot of big ideas which he'd turn to his team and ask to implement… Working for him, I quickly learned he didn't take no for an answer, and that he expected you to pull out all the stops… He certainly believed all the energy in the world should be applied to getting a tough task done."

An example of one of the herculean tasks assigned to Bob: Requesting him to get the rights for ABC to cover the 1979 World Table Tennis Championships in North Korea (at a time when no Western press had been permitted to visit)

Luckily, Bob came through
Learning from Mentors
Bob credits his career success to 3 things: Luck, hard work, and mentorship

"I worked for some incredibly talented people — talented creatively and talented from a pure business perspective. They either consciously or proactively taught me a lot, or I simply learned by watching them." – Bob Iger

Bob adds: "I worked for great people over a long period of time. I was in the business for 30 years before I got the job as CEO of The Walt Disney Company. 30 years — that's a long education."
The Art of Negotiation
Something specific Bob learned from his many mentors: How to negotiate. A few lessons:

"Negotiation should work both ways — the buyer and seller should both come away feeling good about the deal." – Bob Iger
Negotiations should be conducted efficiently and effectively

"I don't think it's something that should be necessarily protracted, as it takes a lot of time and energy" – Bob Iger

"I like being very honest and getting to the heart of a negotiation fairly quickly; I like putting my cards on the table instead of keeping them close to my vest" – Bob Iger
One should always be willing to walk away if the terms don't make sense
Why Bob Exercises
Reason #1: Health

Bob's parents both had heart attacks at 40, leading him to learn at an early age the importance of a healthy lifestyle

Reason #2: Vanity

Of course, who doesn't like to look good?

Reason # 3: Sanity

🎧 "I need quiet time. I need alone time. I need time to be still with my thoughts. Exercise provides that for me." – Bob Iger

"It gives me the time to dream, to think, to create, to prioritize, to reflect, you name it. I find there's an energizing quality to all of that, but there's also a calming quality, and it's served me extremely well, almost to the point of being a savior of sorts. In the most pressured times, in the busiest times, in the times of even the most uncertainty or concern, I have that quiet time to exercise. It gives me a chance to rejuvenate and put things in perspective."
Bob's Exercise Regimen
Except for one day a week when Bob bikes with friends, he exercises alone for the most part

On this particular day, Bob woke up at 4:30 AM, and 15 minutes later hopped on his VersaClimber (he has one at his apartment in NYC), while listening to music

Bob will also turn the TV on while exercising, tuned to the local news or ESPN, but with no sound

Afterward, he did some stretching, had some coffee, read the newspaper, and got his day started (out the door by 7:30 AM)

Two days a week, Bob works with a personal trainer who guides his weight training (after his VersaClimber session)

"At the ripe old age of 68, lifting weights alone can be just a little dangerous" – Bob Iger
Bob is a "Pizza Devotee"
"I don't eat bread or pasta, save for the very occasional holiday where I'll allow myself a bowl of pasta, but I gave up all bread. I'll never have a sandwich… But I am a pizza devotee." – Bob Iger

Bob will allow himself a good pizza meal 1-2x a month

Some pizza restaurants in Brooklyn Bob hopes to soon try:
Some great pizza shops in Austin, where Tim lives:
How has Bob taught his kids to see the world through an optimistic lens?
Bob has famously said: "Nobody wants to follow Eeyore"
It all comes down to leading by example

"It's important to be a realist. I'm not one of those people that believe everything will work out fine all the time, but I do believe that making sure the possibility of something working out fine is very apparent." – Bob Iger
🎧 "If you look at everything through a dark and gloomy lens, it becomes a deterrent to having the energy to be happy or having the energy for things to work out. It creates a negative energy as opposed to the opposite. I think you need a positive energy for your life to be positive." – Bob Iger
Learning to Contend with Anger
Growing up, Bob's father suffered from severe manic depression, leading to frequent angry outbursts

"He could get angry very fast, and he did so very often. The anger was not particularly pretty to look at… This was a deep-seated anger at someone or something expressed in pretty dark ways." – Bob Iger

Given the above, how does Bob currently relate to anger?

Early in his career, Bob had the tendency, like his father, to quickly lose his temper

"But, as I got more and more in tune with his issues, I became more and more capable of controlling mine. I was able to suppress my expression of anger in a very effective way, and that has served me well and lasted pretty much a lifetime. I feel, sometimes, it building in me, but I'm able to recognize either what it is or where it could go and take the necessary steps to contend with it in a healthy way." – Bob Iger

What else has helped Bob better control his anger?

"Having the ability, as you get older, to recognize what's important about life. Understanding, sometimes the hard way by losing people you're close to, that life, in fact, isn't endless."
Another learning: Don't allow things that don't matter in the big picture to cause conflict, sorrow, or anger

"Walk away, and don't allow things that really don't matter to matter. Make sure that the things that really do matter, in fact, matter."
Tim adds: "If you do let the small stuff sweat you, you're just going to brush off all this extra energy that would be better allocated elsewhere"
What lessons is Bob trying to instill in his kids?
(Bob has two sons, ages 21 and 17)
The importance of:

Being humble and not taking things for granted
Being true/honest to oneself

"I'm a big believer in being true to oneself. Until you're true to yourself, you can't be true to others."– Bob Iger
What lessons does Bob hope people take away from his book?
(1:15:30) "More than anything, what I want people to come away with is that, from the outside looking in, this probably looks like a straight line up from bottom to top, one step after the other, each step a step higher in responsibility, authority, and compensation. But it doesn't really happen that way. It's hard work, facing unknowns, rising to challenges, and getting lucky… Even if it looks easy, it's not." – Bob Iger

Also: "I don't think life is as planned as people think it is"
Go Through the Door of Opportunity
"Oftentimes, doors open to opportunity for people, and not everyone is able to walk through them for a variety of reasons. I've always been really fortunate that whenever a door opened — meaning a door to opportunity — I walked through it. I never walked away from it." – Bob Iger
Leaders & Books That Have Helped Bob Stay the Course
Bob has always respected Winston Churchill

"He faced a tremendous amount of adversity and doubters along the way" – Bob Iger

In junior high school, Bob became a fan of Ian Fleming's James Bond novels, particularly:
🎧 A Memorable Quote Bob Lives His Life By
"It is not the critic who counts; not the man who points out how the strong man stumbles, or where the doer of deeds could have done them better. The credit belongs to the man who is actually in the arena, whose face is marred by dust and sweat and blood; who strives valiantly; who errs, who comes short again and again, because there is no effort without error and shortcoming; but who does actually strive to do the deeds; who knows great enthusiasms, the great devotions; who spends himself in a worthy cause; who at the best knows in the end the triumph of high achievement, and who at the worst, if he fails, at least fails while daring greatly, so that his place shall never be with those cold and timid souls who neither know victory nor defeat." – Teddy Roosevelt

Side note: LeBron James is also a fan of this quote, and keeps it hung up in his locker
Additional Notes
"I've never really read a business book in my life" – Bob Iger
"Steve [Jobs] liked his quiet time and liked to be still, but he never allowed himself to be still for too long" – Bob Iger

Steve used to call Bob on the weekends, usually on Saturdays, when he was bored to "just chat." One one of these calls, he told Bob that Iron Man 2 "sucked."

Bob was born in Brooklyn but grew up on Long Island
Before meeting new people, Bob, when possible, does his best to do some background internet digging