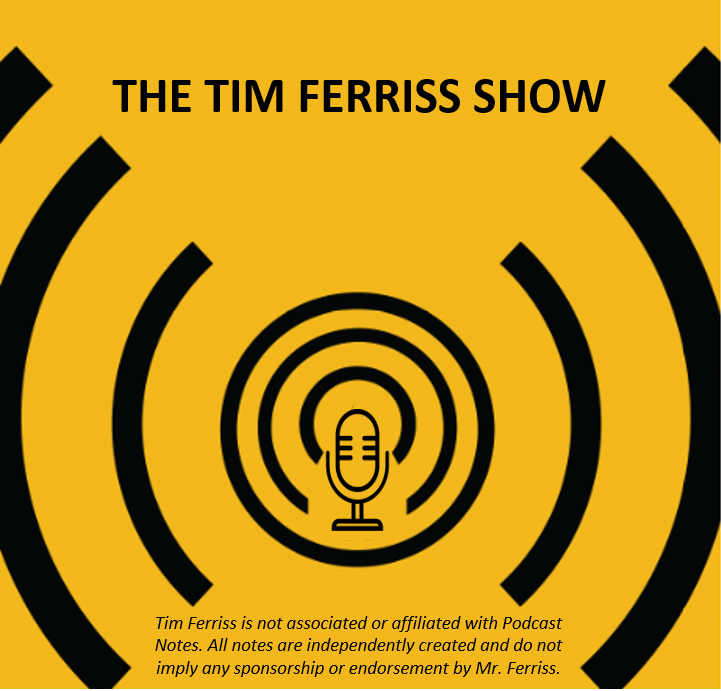 May 26, 2021
#514: Chip Wilson — Building Lululemon, The Art Of Setting Goals, And The 10 Great Decisions Of Your Life | Tim Ferriss Show
Tim Ferriss is not associated or affiliated with PodcastNotes in any way. All notes are independently created by PodcastNotes and do not imply any sponsorship or endorsement by, or affiliation with, Mr. Ferriss.


Key Takeaways
You have to train your mind the same way you would train your body
Set goals and reassess regularly based on the future, and not the past
Goals have to be time constrained and it's helpful to display in a public space to be held accountable
Lululemon was on the forefront of vertical retail, bypassing wholesalers and going direct to consumers
Failure is a great thing to learn: "I like to set my goals so I fail 50% of the time." – Chip Wilson
Landmark Forum was a requirement for Lululemon employees in an attempt to instill integrity, responsibility, and choice
Billboard would say: "Do it now, do it right fucking now" – Chip Wilson
Reframe what the word "news" means – shock and outrage sells: people who were news outlets really became National Enquirer, sensationalist type-papers
Introduction
Chip Wilson (@ChipYVR) is a serial entrepreneur, philanthropist, and founder of Lululemon.
In this episode of the Tim Ferriss Show, Tim Ferriss sits down with Lululemon founder Chip Wilson to discuss Chip's early career in the apparel industry, founding Lululemon and essentially creating the "athleisure" sector, dig into philanthropic endeavors, and much more.
Host: Tim Ferriss (@tferriss)
Audiobook: The Story of Lululemon by Chip Wilson
Chip Wilson's Early Days, Important Ages & Goal Setting
Moved from California to Calgary as a child and lives in Calgary currently
Credits competitive swimming at a young age for instilling discipline, good work ethic and a "hard work = reaching goals" mindset
Pivotal decision: Chip moved to Alaska at age 18 to work a high paying job and avoid falling into a rut of never leaving home
Learned at age 18: you have to train your brain the same way you train your body – so looked up the top 100 books in the world and started reading
Early goals: (1) buy a house; (2) start a business; (3) retire at age 40
The importance of age 43: people have to start wearing glasses and it's a wake up call for mortality – you realize you are not invincible and start looking around at your life and re-evaluating
Maybe if you set goals for later ages in life, you will extend life: for example, instead of a list you want to achieve by 80 (then achieving them and dying), set markers for 100 years old
Building A Mindset Of Goals & Goal Setting
The Psychology of Achievement by Brian Tracey
We often set goals based on the past
"I could see how constraining my life was creating my future from the past as opposed to creating my present from the future." – Chip Wilson
Set goals unconstrained: if you woke up in the hospital with amnesia and couldn't remember your past – where would you start
Failure is a great thing to learn: "I like to set my goals so I fail 50% of the time." – Chip Wilson
"If I don't give 100%, I'm afraid I'm going to fail." – Chip Wilson
We tend to save up for a final sprint, but sometimes we should sprint from the start
A rule of 3s: if Chip hears something or sees something three times in a week, it's a call to action
Early Interest In Clothing & Fitness Apparel
Wilson's dad is a physical education teacher and mom is a sewer so interest in apparel and athletic clothing was a longtime interest
As Chip switched from swimming to triathlons in the 80s, the apparel was so horribly made he designed his own
Put together technology from what he wanted to wear as an athlete, travel, and what he wanted to wear when not competing but wanted to be comfortable
Founded Westbeach Snowboarding Ltd. in 1979 and pivoted from surf to skateboard, to snowboard apparel as the market changed
Sold Westbeach in 1997
Founded Lululemon in 1998 after hearing more and more about yoga and trying it himself after an injury

The name Lululemon was just created out of alliteration and interest in using the letter "l" because it appealed to Japanese buyers; the logo is from a Chip-owned previous company Athletic Hip
Early Days Of Lululemon
Chip wanted to work with great people so put resources into the development of employees
Paid for employees to attend the Landmark Forum (details below)

Wanting children and a family is a great indication of personality

Didn't want to hire people with a legacy of wholesale, manufacturing, vertical business

His early goal was just to ride a beach cruiser to work daily and enjoy being with people he worked with
Lululemon on the forefront of vertical retail: bypassing wholesalers and going direct to consumer
"Anything in the world that's working and working really well now has eliminated the middleman."– Chip Wilson
Chip nearly ran out of money three times when starting Lululemon
Saving money: Chip couldn't afford break-in insurance and noticed it was most likely to happen Friday and Saturday night so slept in a tent in the store to save and prevent break-ins
Landmark Forum
Course (formerly) required for Lululemon employees in the first 2-3 weeks with the company

Note: course is no longer a requirement because of the litigious nature of the U.S.

The goal of the forum was to instill integrity, responsibility, and choice
Forum entailed: required reading goal-setting, linguistic abstraction of terms defining culture of company

Sample of linguistic abstractions: (1) be present; (2) clear the past; (3) create the present from the future; (4) committed listening; (5) stop worrying about looking good; (6) winning formula; (7) choose freely; (8) time is precious; (9) choose to take action; (10) play on the court, don't live on the stands

Required & suggested books:
Every store had 15-40 goals written by employees and posted in the back-room for co-workers to see
Goal setting was to alleviate fears of how you looked to others in the world and make your intentions public
The intention of Landmark was to train people to be great and leave lululemon
Reassess goals regularly: create 10-year vision, 3 values, 1-year goal, 5-year goal, 10-year goal
Goals must have conditions set with dates: people tend to set vague goals because they're afraid to be held to it
Landmark has a bit of mixed reviews and a cult reputation because people walk out "like they've seen Jesus" – according to Chip Wilson
Landmark strengths: appreciation for living in the moment, integrity, responsibility
Definition of integrity: doing what I say I'm going to do, in the expected way – and if I can't, I'm going to set new expectations with new delivery dates
More companies probably don't do this because of litigation in the United States
Website: Landmark Forum
What Is A Brand?
People set up brands to target certain markets
The more specific you are about who your market is, the better you can give them the product they want
"I think it's impossible to be great giving everything to everybody." – Chip Wilson
Though you can succeed in the short term – if you try to become everything to everybody, the key consumers who move a brand forward eventually stop buying the brand
Store Design & Increasing Retail Sales
Lululemon wasn't run by merchandisers and was first a functional company
There was a clear understanding of the customers' preferences
Apparel is functional and beautiful – store had to be the same
Stores are optimized for a fast shopping experience to save women time: clothing is grouped by size, fitting rooms were aplenty and full of 3-way mirrors, prices were upfront so you didn't have to hunt, and cash registers were fast
Chip Wilson: Early Victim Of Cancel Culture?
Went on Bloomberg to discuss 1-minute meditation but the conversation turned to Lululemon and the quality of fabric
Wilson wasn't CEO at the time but was on the board of directors
Brand knew something must have been going on because returns were higher than ever
Wilson's response to questioning was that some pants don't work for some women

Interpretation was Wilson was judging women

Social media: the ends of the bell curve complain the loudest on social media but it was fairly new landscape at the time
The world was moving into a commodity, media business
Shock and outrage sells: people who were news outlets really became National Enquirer, sensationalist type-papers
Looking Into The Future
Wilson has a skill for projecting what the next five years will be
Extensive reading helps craft a narrative of what the future holds
China seems to be on the brink of becoming the next powerhouse and America is falling more in the way of Europe – overregulated, over-taxed, moving further to the left
Most Gifted Books