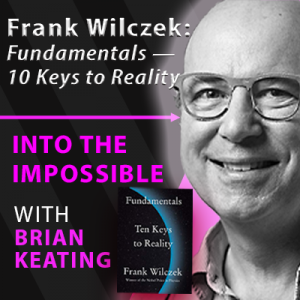 January 14, 2021
Nobel Prize Winner Frank Wilczek: Fundamentals – What Are The 10 Keys To Reality? | Into The Impossible Podcast with Dr. Brian Keating
Check out the Into The Impossible and Episode Notes and sign up
Key Takeaways
The hypothesis of designing an AI able to "think" seems inevitable to occur at some point

Humans are proof that the complexity of the mind is an emergent property of matter

The real question is not whether computers can beat humans at chess

Will they ever be able to create the game of chess?

Dr. Wilczek thinks that it will be possible to design "creative" computers and there already hints of that

Dr. Wilczek describes his personal operating system as "Think, Play, Repeat"
What allowed Dr. Wilczek to Be So Prolific

He loves learning new things, so what he does, doesn't feel like "work"
He allows himself to follow his curiosity and learn about other fields as an amateur

When he finds intersections between his work and his other interests he is able to dive deeper and draw connections

No amount of thinking about what is can lead to a logical inference about what ought to be, or how we ought to behave" Dr. Wilczek

Science can't help us decide what's good and what's bad
For a long time, people have thought about these issues and their wisdom is often contained in religions
Key Books Mentioned
Intro
Frank Wilczek (@FrankWilczek) is a theoretical physicist, winner of the Nobel Prize in Physics, and an author. His latest book, Fundamentals: Ten Keys to Reality was released in January 2021
Host: Dr. Brian Keating (@DrBrianKeating)
In this conversation, Dr. Wilczek shares his thoughts on Artificial Intelligence, Religion, the possibility of a Theory of Everything, and much more
Dr. Wilczek's Thoughts on AI
The hypothesis of designing an AI able to "think" seems inevitable to occur at some point
Mind emerges from matter
We already learned to "make" minds

Designing computers that can do things that were once thought to be unique to humans

The real question is not whether computers can beat humans at chess

Will they ever be able to create the game of chess?

That would be beyond artificial intelligence, it would be artificial wisdom

Dr. Wilczek thinks that it will be possible to design "creative" computers and there already are hints of that

In reinforcement-learning, computers are designed to "explore" possibilities to see what works and then "exploit" them

This is currently used to teach computers how to play games and other simple applications
We can foresee AI being able to learn about humans tastes and motivations and "explore" creating games that we might like

ThisPersonDoesNotExist.com shows how computers can create realistic photographs of humans that don't exist

This is an example of how computers can be creative
What are the Fundamentals?
Dr. Wilczek defines Fundamentals as basic principles that explain a lot but can't be explained by anything else

For example, the 2nd Law of Thermodynamics explains a lot about how the world works, but it is not fundamental

It can be explained in terms of atomic structure, probability, and the mechanical view of the World

The discovery that there are such things as Fundamental Principles is really profound
"The comprehensibility of the world is a miracle" Albert Einstein
How To Decide What To Work On
There are three factors that Dr. Wilczek considers when deciding what to work on

Importance

Problems can be important if they are "Fundamental" or if solving them is useful

Addressability

His ability to do something about the problem

Irritability

If he perceives flaws or gaps that irritate him in our understanding of the World, he wants to address it

He also tries to incorporate playfulness in his work and in the choice of his projects

He describes his personal operating system as "Think, Play, Repeat"
What Allowed Dr. Wilczek to Be So Prolific
Dr. Wilczek loves learning new things, so what he does, doesn't feel like "work"
He was fortunate to come across some great minds during his career such as Bertrand Russell
He also allows himself to follow his curiosity and learn about other fields as an amateur

For many years he has been learning about Machine Learning, Cosmology, and the areas of Physics outside of his expertise
When he finds intersections between his work and his other interests he is able to dive deeper and draw connections
On Axions and an Expanded Concept of Symmetry
Formulas for axions (hypothetical elementary particles) display a broken symmetry that can be seen as more beautiful than perfect symmetry

Axion's symmetry is broken in a very particular way

This can be seen as Nature giving us an opportunity to expand our concept of symmetry

Broken symmetry is not the absence of symmetry

You can have spontaneously broken symmetry, proximate symmetry, asymptotic symmetry, and more
Nature likes broken symmetry

There's a study that took half of Brad Pitt's face and copied it symmetrically on the other half

Surprisingly he looks better with a less symmetrical face

Even in music, having variations on the theme enriches the melody
Quantum Chromodynamics (QCD)
Quantum chromodynamics (QCD) is the theory of the strong interaction between quarks and gluons, the fundamental particles that make up composite hadrons such as the proton and the neutron.
Color Confinement

The atomic nucleus is held together by a powerful, strong interaction that binds together the protons and neutrons that comprise the nucleus.
The strong interaction also holds together the quarks that comprise protons and neutrons.
This interaction is so strong that no "free" quarks have ever been observed, meaning we have not been able to experimentally isolate and observe individual quarks.

This behavioral property of quarks is referred to as color confinement.
Part of the nature of color confinement is that the further you try to force the quarks apart, the greater the force of containment.

One way to visualize color confinement is by imagining that the quarks are confined to elastic "bags."

We can imagine that the boundaries of the proton serve as the boundary of the elastic bag.
A proton is composed of two up quarks, one down quark, and the gluons that mediate the forces "binding" them together.
The color charge of individual quarks is arbitrary, but all three colors must be present.

To "stretch" the bag and pull the quarks apart means that energy must be added to the system to overcome the strong force between the quarks.

The energy that must be added to overcome the strong force far exceeds the amount of energy needed to produce new mesons (quark and anti-quark pairs) and baryons via pair production.
Therefore, instead of separating the quarks, we just produce more hadrons, like protons and neutrons.

Asymptotic Freedom

Based on experiments, as quarks get very close to one another (like when they're inside a baryon), they actually experience a decrease in the force strength.

This implies that quarks can move about within a baryon rather freely.
Qualitatively, this results from the penetration of the gluon cloud surrounding the quarks.

Because the gluons carry color charge, this gluon cloud would reduce the effective color charge of the quark, making the force of interaction between quarks weaker as they move closer.
The Most Beautiful Experiments in Physics
Dr. Wilczek's personal favorite experiments

Seeing "jets" in QCD (quantum chromodynamics)
The anyon discovery

According to Dr. Wilczek, the most beautiful experiment that emerged from 20th-century physics is the Josephson effect
A Case for God's Existence
Dr. Wilczek doesn't subscribe to any religion
But he doesn't see them in a negative way

Religion is part of our cultural heritage and part of who we are and it contains many beautiful ideas
Getting rid of religion would be like cutting off an arm

There are things about how to be and make sense in the World that science doesn't answer
"No amount of thinking about what is can lead to a logical inference about what ought to be, or how we ought to behave" Dr. Wilczek

Science can't help us decide what's good and what's bad
For a long time, people have thought about these issues and their wisdom is often contained in religions

Taking religion seriously also helps us to better relate to people coming from those traditions
Dr. Wilczek's approach is to "understand God through God's work"
On the Existence of Extraterrestrial Life
We don't have any evidence of the existence of extraterrestrial life
But Dr. Wilczek thinks that there is a high probability of its existence

He also doesn't see the fact that we haven't seen it as a paradox because of distances and difficulties to communicate

It did not take very long for life to emerge once the conditions on Earth became stable

The chemistry to get life started is complicated, but not overly so
He thinks it's likely that life would emerge in the many billions of planets in our galaxy and other galaxies

The much more difficult step is to move from single cells to multi-cellular organisms

It took billions of years on Earth for this to happen
Conditions on Earth were seemingly perfect

Moving from multi-cellular organisms to Intelligence as we know it might be even more difficult

"Extraterrestrial intelligence and extraterrestrial technology might be rare, even though extraterrestrial life is common" Dr. Wilczek

The idea of aliens throwing around physical objects to explore the Universe seems very farfetched and inefficient to Dr. Wilczek

But he admits that there might be something he doesn't know that makes him think that

"Any sufficiently advanced technology is indistinguishable from magic" Arthur C. Clarke's third law
Can There Be a Theory of Everything?
Dr. Wilczek dislike the phrase Theory of Everything, he prefers calling it a "Final Theory"
A Final Theory would be

an account of the fundamental laws of Nature
Everywhere we check it, it is confirmed
No phenomenon is left out from it
Doesn't seem to be open to change
It wouldn't be a description or explanation of many things that we consider to be part of "everything"

We have an approximation to a Final Theory in what Dr. Wilczek calls a Core Theory (or Standard Model)

Those laws have many of the characteristics of a Final Theory in the fields of biology, engineering, most of physics (except cosmology)
Even if we improved this Core Theory, it could not be a theory of everything